She has tempted many men...but never found her equal. Until now.
Though she has lived for centuries, Anya, goddess of Anarchy, has never known pleasure. Until Lucien, the incarnation of death--a warrior eternally doomed to take souls to the hereafter. He draws her like no other. And Anya will risk anything to have him.

But when the merciless Lord of the Underworld is ordered by the gods to claim Anya herself, their uncontrollable attraction becomes an anguished pursuit. Now they must defeat the unconquerable forces that control them, before their thirst for one another demands a sacrifice of love beyond imagining...
TITLE- The Darkest Kiss
SERIES- Lords Of The Underworld #2
AUTHOR- Gena Showalter
FORMAT- Ebook
Ugh!! I'm literally in love with series!! I loved The Darkest Kiss more than The Darkest Night and this was because of Anya (the female lead).
Anya
Anya is the Goddess Of Anarchy and she is the definition of badass and she always gets what she wants.
3 words to describe Anya- Strong, Confident, Fearless.
Lucien
Lucien is possessed by the Demon of Death along with a scarred face and mismatched eyes. He is the definition of miserable and is unable to accept himself.
3 words to describe Anya- Calm, Sad, Lonely.
Anya is the Goddess of Anarchy who was sent to earth after she was cursed for being born as a bastard child. She has some amazing powers and a precious gift because of which she is being hunted by Chronus, the king God. If you haven't read book 1 then let me tell you that Anya was the Goddess who freed Maddox and Lucien from their extra curses.
Also, Anya is obsessed with Lucien, the keeper of death who carries souls to heaven and hell. She is infatuated with the scarred Lord. Lucien is as obsessed with Anya as she is with him but he can't give into her because he is supposed to kill her (as ordered by Chronus).
Oh yes! You read it right, he is the chosen one to kill her but that doesn't stop Anya from tempting him.
So starts the banter of life and death. I loved their fights and they were intense.
"You stabbed me," he said, incredulous. Grimacing, he jerked out the now-bloody dagger and rubbed a hand over the wound, then looked down at his drenched, crimson-stained fingers. Anger overrode the incredulity.
"Feel free to keep the dagger as a souvenir."
Soon they develop an unbreakable bond and love finds it's way in their lives amidst all the dangers. They'll do anything to stay together but what will happen when their lives are threatened? Will the survive or just fade into the thin air?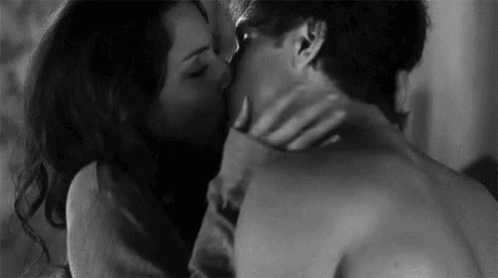 The plot was quite interesting. It had that enemies to lovers trope. Their fights were rather enjoyable and Anya was one sassy and kick-ass heroine who feared nothing, not even the keeper of death, Lucien.
Life would be totally boring without you. And baby, bad things happen when I get bored.
Lucien pretends to be all dark and dangerous but deep down he is just a softie who loves Anya to death and would do anything to keep her safe but as Anya said in the previous book that for a happy ending, there is always a need of an ultimate sacrifice and she made one for getting her happy ending.
"She kissed and nipped at his face, her hands tangling into his hair. "I thought I'd lost you."
"You gave up everything for me."
The sexual tension in the book was just undeniable and too much to handle. The chemistry was off the charts and the love was everywhere.
Another theme of this series is suspense and adventure and the way the mystery uncurls is mind-blowing. This is the type of the book that you can't put down without completing it in one sitting.
Apart from all this, the book offered buts and pieces of Reyes and Danika and even Paris and a mortal named Sienna. I am really excited about Paris's story and even Aeron's. Reyes's story does not sound appealing but still, I'll give it a try for the sake of this amazing series.
Highly recommended to the lovers of paranormal romance and fantasy.
Supporting Characters: 4.5 Stars